Cooperative News
September 6, 2023
Birds on a wire: Don't shoot power lines
For many hunters, September is an exciting month, as it means the start of their season with the opening of dove hunting. It's also a good time to urge hunters to take precautions and be aware of potential electrical hazards while hunting.
Doves often perch on power lines, making enticing targets for hunters. The risks of damaging electric and fiber-optic equipment, as well as causing potential personal harm, far outweigh the rewards of hunting.
Never shoot near power lines, fiber-optic cable, insulators or other electrical equipment. A single shot can cause vast damage to the electrical system. Damage to electrical equipment can result in power interruptions and physical threats to those nearby. In order to avoid this, note the location of power lines and other electrical equipment before you begin a hunt. Be especiallycareful and observant in wooded areas where power lines are easy to overlook.
Never set decoys on electrical equipment or utility poles. Any nonelectrical equipment attached to a pole can be an obstruction and serious hazard to lineworkers.
In preparing for the upcoming deer hunting season, obey all signs or postings that advise electrical safety, especially when selecting the location for a tree stand. Tree stands are the leading cause for hunting injuries. Although they are important for hunters to have a better perspective for game, without precautions, tree stands can be extremely dangerous. Never use utility poles to support a tree stand. When setting up and taking down the stand, make sure you do not make contact with any overhead electrical equipment. Energized lines and equipment can conduct electricity to anyone who comes in contact with them, causing shock or electrocution.
Before leaving for a hunting trip, make sure that you have safety items to signal for help in case of an emergency. Always carry emergency supplies in the event of an accident, such as a cellphone, whistle and flashlight.
Good luck this hunting season. Stay safe while enjoying the great outdoors. For more information on electrical safety, visit SafeElectricity.org.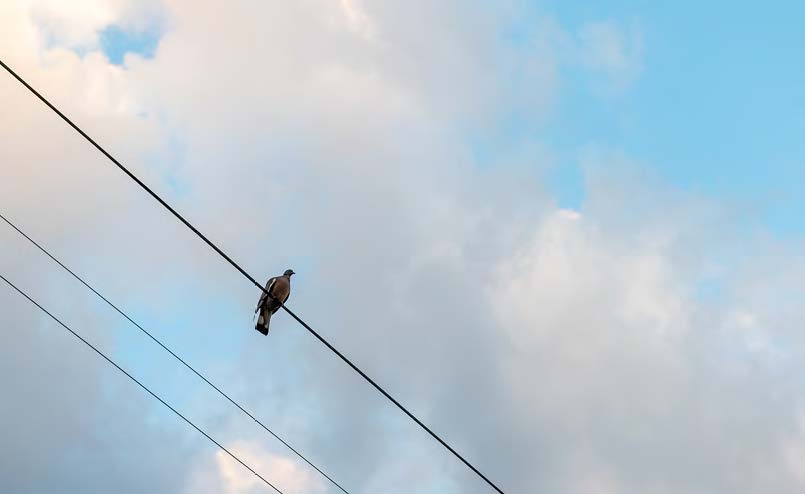 [Image: Doves perched on power lines can be enticing targets, but shooting lines can cause power outages.]
September 6, 2023
The Power in Preparation
September is National Preparedness Month
According to the Federal Emergency Management Agency (FEMA), National Preparedness Month is a yearly observance "to raise awareness about the importance of preparing for disasters and emergencies that could happen at any time." During a prolonged power outage or other emergency, this means having enough food, water and supplies to last at least a few days. While you don't have to achieve a "doomsday prepper" level of readiness, there are several practical steps you can take to keep you and your family safe.
Here are general guidelines recommended by FEMA:
Assemble a grab-and-go disaster kit. Include items like nonperishable food, water (1 gallon per person, per day), diapers, batteries, flashlights, prescription medications, a first-aid kit, a battery-powered radio and phone chargers. Add supplies for your pets, too.
Develop a plan for communicating with family and friends (i.e., via text, social media, third party, etc.).
Have some extra cash available; during a power outage, electronic card readers and cash machines may not work.
Store important documents (birth certificates, property deed, etc.) in safe place away from home (for example, a bank safe deposit box).
Fill your car with gas.
Bring pets indoors at the first sign of a storm or other emergency. Pets can become disoriented and frightened during severe weather and may wander off during an emergency.
Microchip your pet, and ensure the contact information is up to date.
Organize your supplies so they are together in an easily accessible location that family members know about.
Visit ready.gov for more information on National Preparedness Month.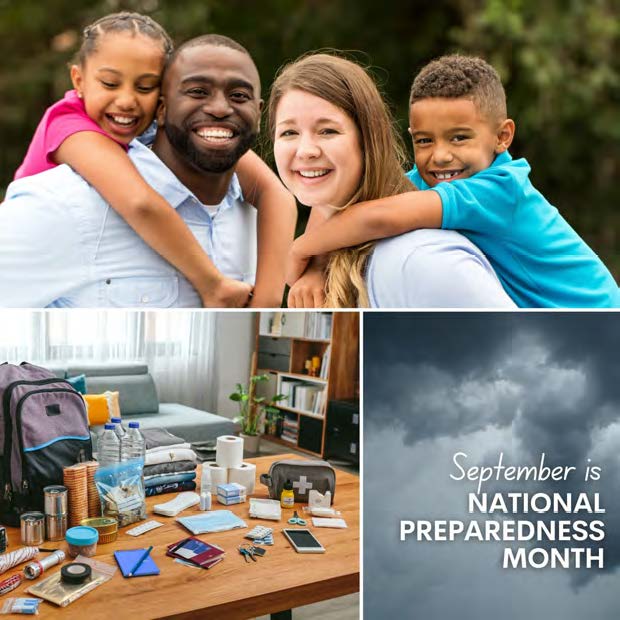 September 6, 2023
National Drive Electric Week is charged with excitement
By Taylor Baker



Arkansas is witnessing a surge in the popularity of electric vehicles (EV), as residents embrace sustainable and eco-friendly transportation options. With a growing concern for the environment and advancements in EV technology, more and more Arkansans are opting for electric vehicles. As that number grows, Today's Power, Inc. (TPI) continues to partner with electric cooperatives and businesses across the state to install charging infrastructure.
Based on the latest 2023 data, the adoption of electric vehicles in Arkansas has experienced a significant upward trajectory. According to the Arkansas Trucking Association, the number of registered EVs in the state increased approximately 284% this year, marking a substantial increase compared to previous years. This surge reflects a growing awareness of the benefits of EVs and the commitment of Arkansans toward sustainable transportation alternatives.
National Drive Electric Week, an annual event celebrated this year Sept. 22 through Oct. 1, plays a crucial role in promoting electric vehicle adoption and raising awareness about the benefits of electric mobility. In Arkansas, Drive Electric Week events are organized by local communities, businesses and electric cooperatives to showcase electric vehicles, provide test drives and educate the public about the advantages of EV ownership.
The participation and enthusiasm during Drive Electric Week events have been instrumental in bolstering EV adoption in Arkansas. These events not only attract existing EV owners but also capture the interest of potential buyers who may have been hesitant about transitioning to electric vehicles. By providing firsthand experience and valuable information, Drive Electric Week events help dispel myths and misconceptions about EVs and encourage more Arkansans to consider making the switch.
The availability of a robust charging infrastructure is vital for the widespread adoption of electric vehicles and still remains one of our biggest challenges. Although Arkansas has made significant progress in expanding its charging network to meet the growing demand, TPI looks forward to working with more and more businesses to expand charging availability.
Find National Drive Electric Week events in your area at driveelectricweek.org/events-list.
Taylor Baker is the marketing and public relations coordinator for Today's Power, Inc., wholly owned by Arkansas Electric Cooperatives, Inc.

August 7, 2023
Factors that impact electricity prices
Inflation has impacted the price of everything including gasoline, eggs, and the costs for fuels required to produce electricity. There are a few key factors that impact electricity prices and energy bills.
The three primary components of your monthly electric bill include: an energy consumption charge, a service availability fee and a cost of energy adjustment charge. To understand your total energy costs and what impacts your bill, let's examine each area.
The first component of your monthly bill is the energy consumption charge, which covers how much energy you consume. You've likely noticed the amount of energy you use can vary from month to month and is typically impacted by extreme temperatures. When temperatures soar or dip, your cooling and heating equipment operate more, which increases your home energy use. Energy consumption is an area that you have some control over, and you can lower your monthly bill by actively reducing energy use.
The next component is a fixed monthly service availability fee, which covers the costs associated with providing electricity to your home. This includes equipment, materials, labor and operating costs necessary to serve each meter in our service territory, regardless of the amount of energy used. In order to ensure the reliable service you expect and deserve, we must maintain the local power delivery system, including power lines, substations and other necessary equipment. Like many other businesses, we've experienced supply chain issues and steep cost increases for some basic equipment.
Because energy costs change regularly, the cost of energy adjustment may be a credit or charge on your bill each month, depending on current energy prices and the amount of energy used. It covers wholesale fuel cost fluctuations without having to continually restructure electricity rates. It's a direct pass through, with no markup.
While we can't control the weather or the rising costs of fuels, please know Ouachita Electric Cooperative is doing everything possible to provide you with the most Affordable, Reliable and Responsible power possible.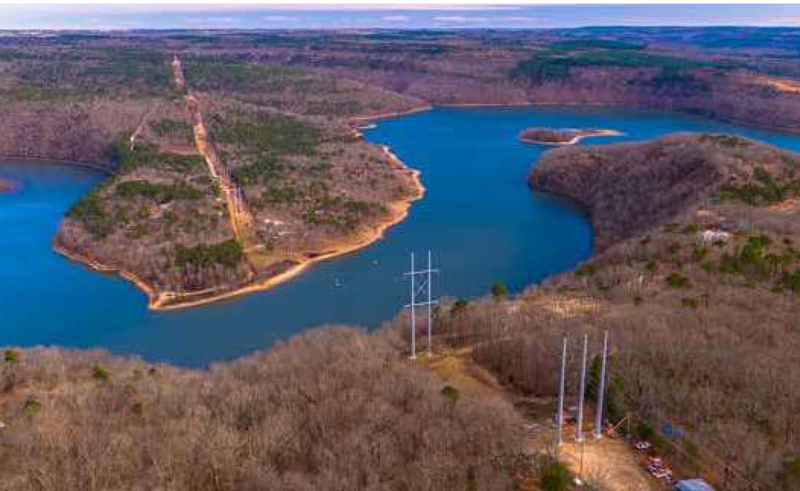 We take our mission to provide our members with Affordable, Reliable and Responsible energy seriously.
August 7, 2023
Ouachita Electric delegates attend 2023 Youth Tour
Eliza Taylor, Caleb Johnson, Kerrstyn De Woody and Mason Morgan represented Ouachita Electric Cooperative at Youth Tour, an all-expenses-paid educational trip to Washington, D.C., from June 16-22. Eliza was one of four finalists chosen to compete to be the 2023 Youth Leadership Council delegate to represent Arkansas.
Applications for the 2024 Youth Tour will be available for high school juniors in February. For more information on Youth Tour, please contact Angie Mclendon at 870-837-3615 or by email at amclendon@oecc.com.
Ouachita Electric delegates (from left) Eliza Taylor, Caleb Johnson, Kerrstyn Dewoody and Mason Morgan at the World War II Memorial in Washington, D.C. They were four of 48 students representing Arkansas on Youth Tour.
August 7, 2023
Annual Meeting
Ouachita Electric Cooperative held its Annual Meeting on June 22, where the following directors were elected to serve our membership:
Director elected for a two-year term:
District #2 -James CTim) Garner
Directors elected for a three-year term:
District #7 - Sheila Johnson
District #8 - Danny Adams
District #9 - Dr. Corbet Lamkin
Thanks to members who turned in their ballots and were entered into our contest for prizes. The following winners were chosen at random:
Bill credit winners:
$100 - Roy Stover
$100-JT Vaughan Jr.
$50 -Johnny Shipp
$50 - Amanda McAlexander
Grand Prize Winner:
Flat top griddle - Alice and W.C. Pennington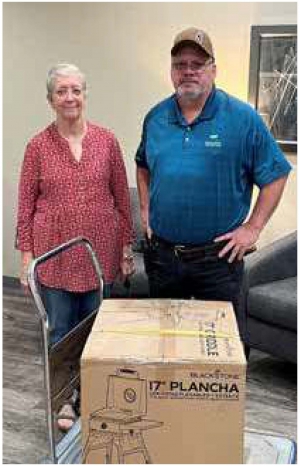 Grand prize winner Alice Pennington with General Manager Shawn Dorflinger.
August 7, 2023
The Energy Pyramid - By Mitch Ross
When I was in school, we were taught the food pyramid as a way to conceptualize portions and the variety of foods needed for a healthy diet. While the food pyramid has been replaced with the MyPlate concept, the simple efficacy of using a pyramid to relay priorities has stuck with me. I still remember that having a foundation of healthy grains, fruits and vegetables was considered important, while sweets were to be consumed sparingly.
As an energy auditor, I also use the pyramid concept to teach the proper sequence of priorities for those wishing to lower their energy usage and save on their electric bills. Much like those of us who wish the food pyramid foundation were sweets, I find many homeowners think the initial solution to high energy costs is adding solar. Like sweets, solar should be used sparingly and only after everything else that can be done is completed.
The Energy Pyramid has a foundation of Energy Conservation, a middle section of Energy Efficiency and a peak of Intermittent Energy.
Energy Conservation is the foundation of a strategy to lower energy costs. It is the prevention of wasteful energy use. Setting the thermostat to reduce HVAC runtime, turning off lights and fans in unoccupied rooms, sealing leaky ducts and turning off computers and gaming systems when not in use are all great examples. Focusing on Energy Conservation can have a significant impact on energy usage!
Energy Efficiency is using less energy to perform the same tasks or produce the same results. Examples include replacing old HVAC systems with efficient heat pump systems, swapping incandescent bulbs with LEDs or changing out traditional electric water heaters with efficient heat pump water heaters. Many home efficiency measures can be implemented and will pay for themselves within just a few years, making them a worthwhile investment.
Lastly, Intermittent Energy, such as solar, is energy that is not continuously available due to uncontrollable external factors. While residential solar may seem like a good solution, it is among the least cost-effective measures. It has a poor payback when compared with most energy conservation and efficiency measures. I have been to homes with solar, and the homeowners are still unhappy with their energy costs, because now they are paying an electric bill on top of their solar financing bill. I have also been in homes with solar that have ductwork in terrible condition, older inefficient HVAC systems, water heater leaks and other big issues that would have been much more cost-effective to resolve.

When addressing energy costs, it's my hope that you will conserve first and see what efficiency can do for your home - before trying to make a meal of the sweets.
Visit energy.gov for more information on energy savings, or contact Ouachita Electric Cooperative at 877-252-4538 to schedule an energy audit.
Mitch Ross is the energy efficiency manager for the Electric Cooperatives of Arkansas.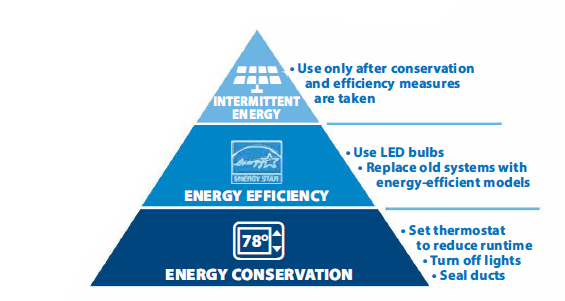 May 31, 2023
MEET THE CANDIDATES CANDIDATES FOR DIRECTOR POSITIONS
Members of Ouachita Electric Cooperative are voting by mail in their director elections this year. Positions for election include:
Position No. 2. - Director to serve a remaining term of two years
Position No. 7, Position No. 8 and Position No. 9 – Directors to serve three-year terms
This information is provided to give you a brief biography of each candidate for the positions to be filled in the balloting. A ballot for your use and a postage-paid, pre-addressed envelope for its return were mailed to you with the Annual Report.
POSITION No. 2 (two-year term)

JANE MARIE REEVES is the daughter of the late John Dawson, Jr. and Nancy Dawson. She graduated from Fairview High School and then attended Ouachita Baptist University and obtained her degree in Music Education. She is married to Anthony Cris Reeves and has two children, a daughter, Allie Marie Box (husband, Blaine Box), and a son, AJ Watson, who is a junior in high school. AJ recently enlisted with the Army National Guard and will be attending boot camp this summer in Fort Benning, Georgia. Reeves is a Co-owner and Vice President of Arkansas Pulpwood Co. in Camden. She has a heart to serve her community, and as a member of Calvary Baptist Church, she has enjoyed leading in worship for the past 10 years. She has also served her community as a volunteer at The Ouachita County Recreational Center (OCRC). Her service and experience make her an ideal candidate for District 2, and if elected, she would be a positive influence on those in our community as well as the Ouachita Electric Cooperative as a whole.
POSITION No. 2 (two-year term)

JAMES C. GARNER began his service on the Cooperative's Board of Directors in 2001. He has served on Arkansas Electric Cooperative's Board of Directors. James has achieved the status of Credentialed Cooperative Director from the National Rural Electric Cooperative Association (NRECA) as well as certification in Cooperative Board Leadership. He also has completed the Director Gold Program. From 1966 to 1970, Garner served as sergeant for the U.S. Air Force and received a Medal of Commendations. He also served in Vietnam from 1969-1970. He has been the President of Ouachita County Farm Bureau since 1990. Garner was the Vice President of Ouachita County 4-H Foundation (1997-2002) as well as Vice President of the Fair Board (1982-2002). Garner is owner of Red Oak Farms. He raises cattle and enjoys growing tomatoes in the summer. He has one daughter, Kelly Belt (husband, Brandon), and two grandchildren, Austin and Gracie.
POSITION No. 2 (two-year term)

JONATHAN CHAMBERS is a lifelong resident of Ouachita County and is a 2004 graduate of Camden Fairview High School. Growing up, he was active in the Boys and Girls Club, Ouachita Valley soccer league, Camden Bulldogs football league, Camden Clovers 4-H and Camden Fairview FFA chapter. Chambers showed pigs at county, district and state fairs and received many awards for his achievements. In 2008, Chambers became a police officer with the Camden Police Department. He attended the Arkansas Law Enforcement Academy in 2009. In May 2014, he took a position with the 13th Judicial District Drug Task Force, where he worked with multiple agencies to assist in narcotics-related cases. He is currently employed with the Arkansas Law Enforcement Training Academy as an instructor. He has a senior level certificate with the Commission on Law Enforcement Standards and Training. He is a graduate of Southern Arkansas University Tech. He is a member of the Camden Country Club, and he serves on the committee of the Ouachita County Friends of NRA chapter. Chambers is married to Jennifer Robertson Chambers; they have two children, Jon Russell (10), and Jorgia (8). He enjoys watching Jon Russell play baseball and Jorgia show pigs, along with hobbies of hunting, fishing and golf.
POSITION No. 7 (three-year term)

SHEILA JOHNSON grew up in Bearden graduated from Bearden High School and now resides in Harmony Grove. She is the retired manager of Johnson's Farm & Garden and managed Bank's Jewelers for many years. Sheila has been happily married to her husband, Kim, for 42 years, and they share two daughters. Their oldest, Amanda Rogers, lives in Benton where she is a physician. Their youngest, Heather Johnson, is the girls' head basketball and volleyball coach at Harmony Grove. Johnson enjoys photography and can often be found at sporting events. Her granddaughter, Kinsey, is a cheerleader at Ole Miss, and her three grandsons, Gave, Garrett and Caleb, play multiple sports at Harmony Grove. Johnson is a devout member of Calvary Baptist Church.

POSITION No. 8 (three-year term)

DANNY G. ADAMS graduated from Banks High School in 1965 and the University of Arkansas at Monticello in 1971 with a Bachelor of Science degree in Education. Adams was elected to the Ouachita Electric Cooperative Corporation's Board of Directors in June 2002. He has obtained the Credentialed Cooperative Director Certificate and the Cooperative Board Leadership Certificate. He previously taught geography, civics and American government at Hermitage High School, where he also coached junior and senior girls' basketball and track. Adams also taught and coached at Woodlawn High School, New Edinburg High School, Fountain Hill High School and Banks High School. He has since retired from the teaching and coaching profession after 29 years of service. He and his wife, the former Glenda N. Owens, are the parents of three children, Darren Adams, Jennifer Hamblin and Chris Taylor. Adams is a member of Cross Roads Missionary Baptist Church in Warren, where he serves as Church Superintendent.
May 31, 2023
Delegates selected for educational Youth Tour
Ouachita Electric Cooperative has selected four delegates to represent the co-op on the 2023 Youth Tour, an all-expenses-paid educational trip to Washington, D.C.
Kerrstyn DeWoody, Caleb Johnson, Eliza Taylor and Mason Morgan will explore the nation's capital June 16-22 with delegates from the other Arkansas electric cooperatives.
The group will join approximately 2,000 students from across the United States in the nation's capital. During the trip, they'll learn about electric cooperatives, tour historic sites, monuments and museums and meet members of the Arkansas congressional delegation.
High school juniors may apply for the Youth Tour each year. Visit oecc.com/youth-tour for more information.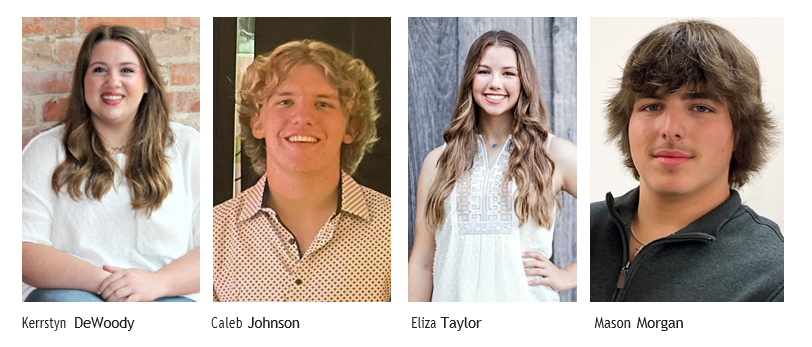 May 31, 2023
No-sweat guide to choosing a room air conditioner - By Mitch Ross

On one of the many scorching 100+ degree days we had last summer, I had the idea to order an above-ground pool for our family to get relief from the heat and enjoy together. Long story short … due to my lack of foresight (once it's 100+ degrees — it's preferable for the pool to be up and running, not just ordered), we received the pool and got it set up at the very end of summer. This means it didn't provide any relief during the hottest part of the year, and we barely got to enjoy it at all. This year I am determined to be prepared before the hot weather comes, and I would recommend everyone do the same!
While a pool is fine and dandy, the real relief from the heat comes from our lovely, air- conditioned spaces. Arkansans owe Willis Carrier, inventor of the air conditioner (AC), a great deal of thanks. While we can all appreciate cooling off under the breeze of an AC system, I've seen a lot of misunderstanding and misinformation about these wonderful devices while doing energy-efficiency education. We want to make sure you enjoy the benefits of AC in the most cost-effective way possible. Here, we'll discuss an oft used, but not often highlighted form of AC room air conditioners.
Room ACs, unlike their whole-home counterparts, central ACs, are designed to cool just one part of the home. Here are three main styles of room ACs and their pros and cons: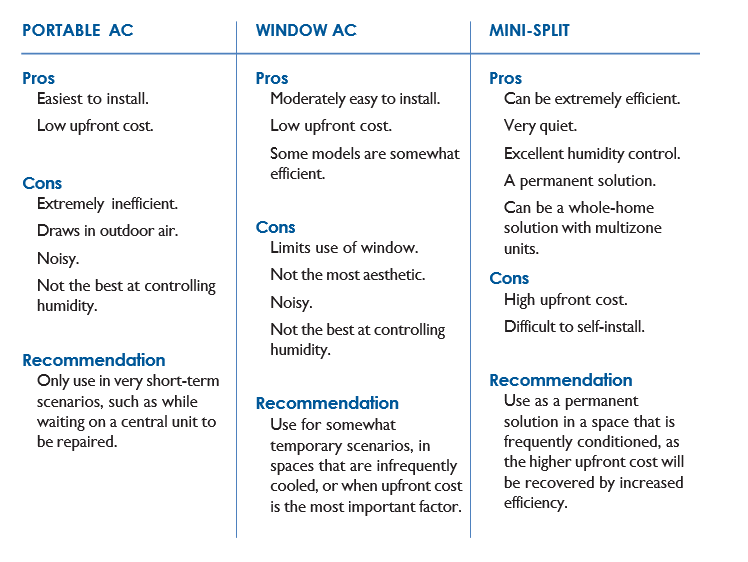 Mitch Ross is the energy efficiency manager for the Electric Cooperatives of Arkansas.
March 1, 2023
From the Managers Desk: You are a member, not a customer
That's the co-op difference!
Many businesses use the word "member" to describe their customers. At Ouachita Electric Cooperative, membership really does mean something more than just the right to buy electricity. We are founded on seven cooperative principles that give us guidance and strategic direction.
As a co-op member, you're not just another customer. You are an owner, which gives you many benefits, including:
VOLUNTARY AND OPEN MEMBERSHIP
Membership is open to everyone in our service territory, regardless of race, religion, age, disability, gender identity, language, political perspective or socioeconomic status.
DEMOCRATIC MEMBER CONTROL
We follow democratic processes and allow members to vote in board elections and share their ideas or concerns. Since board members are from your community, this provides local control because they listen and respond to you.
MEMBER ECONOMIC PARTICIPATION
Members contribute equally to — and democratically control — the cooperative's capital. As a not-for-profit coop, no profit is collected. We return revenues or margins to our members in the form of capital credits.
CONCERN FOR COMMUNITY
While focusing on member needs, we work for the sustainable development of our communities. Cooperatives are community-focused and work to improve the areas we serve. Since co-ops are owned by those we serve in our community, we have a mutual interest to ensure that both the co-op and the members do well and prosper. Working together helps to keep power affordable and ensures we can provide it in a reliable and responsible manner.
Ouachita Electric is a member-owned cooperative that strives to give you the best value of any utility. To us, you are not just a customer. You are a member, and without you, we would not exist.
March 1, 2023
Ouachita Electric Cooperative - EMPLOYEE SPOTLIGHT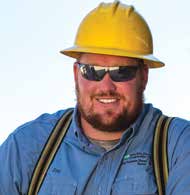 Eric McGee Current position: Journeyman Lineman/ Serviceman
How long have you worked for OECC: 4 years Most rewarding part of your job: The members
What would you like to do at co-op? Learn to draw and stake lines
Hobbies: Hunting/fishing
Favorite food: Steak dinner
Unique/interesting thing about you? I am a volunteer fireman
Valuable life lesson: Be your brother's keeper Bucket list: Go to the Grand Canyon
March 1, 2023
WE WEATHER THE STORMS TOGETHER!
Ouachita Electric experienced widespread system outages on Feb. 1. Crews from Ozarks Electric, Arkansas Electric Cooperative, Inc., Barnett Rightof- Way Services and Platinum Power, Inc. assisted us with power restoration efforts. We had a total of 74 lineworkers working in our communities helping to restore the power as quickly as possible. Many thanks to MSTN Transformers, Woods Place, Americas Best Value Inn, Sleep Inn/Main Stay, Holiday Inn, Flaming Pig BBQ, Catherine's, White House Café, D&J's Country Cooking, Sweety's Donuts, Cardinal Café, Granny's Grill, Bulldog Drive-In, La Carreta Restaurant, B-N-G's, Tin Top Dinner, Rusty & Carol's Sportsman Center, Ouachita County Judge Robert McAdoo, Calhoun County Judge Floyd Nutt, Samco Stay, Scott and Cindy James, Larry Sindle, Jeremy Givens, Gerald Nutt and Dixie Dorflinger. One of the greatest values of being a cooperative is helping others in time of need. We are Arkansas strong and cannot thank you enough! We also want to say a special thank you to our members for their patience and understanding while power was being restored.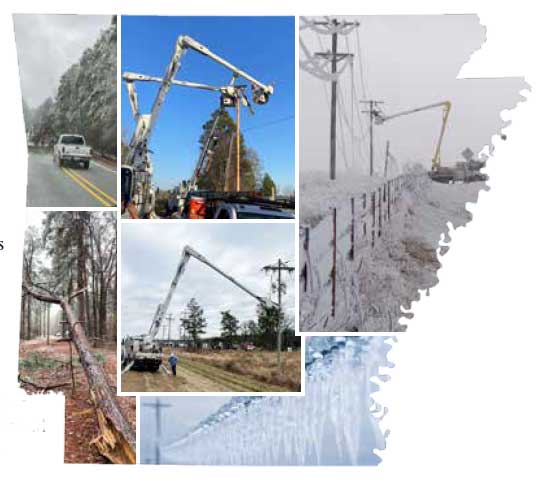 March 1, 2023
PLAY IT SAFE: Do's and don'ts when using portable generators
Storm season is upon us, which means greater potential for power outages. If you're planning to use a portable generator in the event of an outage, play it safe with these tips.
DO: Install backup carbon monoxide (CO) alarms. In a 2022 report, the Consumer Product Safety Commission estimated 85 U.S. consumers die every year from CO poisoning caused by gasoline-powered portable generators.
DO: Keep children and pets away from portable generators at all times. DO: Position generators at least 25 feet outside the home, away from doors, windows and vents that can allow CO to enter the home.
DO: Ensure your generator is properly grounded. Use a portable ground fault circuit interrupter (GFCI) to prevent electric shock injuries.
DO: Use three-pronged extension cords that are rated to handle the load of the generator. Inspect extension cords for cuts, frays or other damage before use.
DON'T: Operate a generator inside your home or a fully or partially enclosed space. Generators produce high levels of CO, which can be deadly.
DON'T: Rely on generators as a full-time source of power. They should only be used temporarily or in emergency situations to power essential equipment or appliances.
DON'T: Overload generators. Make sure your generator can handle the load of the items you plan to power.
DON'T: Connect generators directly into household wiring unless you have an appropriate transfer switch installed. If a generator is connected to a home's wiring without a transfer switch, power can backfeed along power lines and electrocute lineworkers making repairs.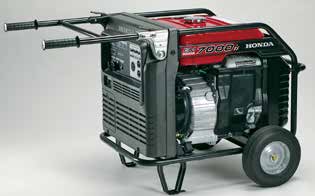 While generators provide convenience during power outages, they
can quickly become hazardous — even deadly — if improperly operated. Before operating a portable generator, thoroughly read the owner's manual for important safety information and tips.
Article contributed by Abby Berry with National Rural Electric Cooperative Association.
December 27, 2022
Shawn Dorflinger named Manager of Ouachita Electric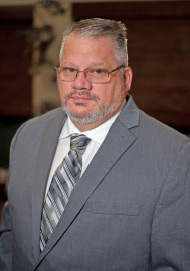 The Board of Directors of Ouachita Electric Cooperative (OECC) is pleased to announce Shawn Dorflinger as the new General Manager. Dorflinger was appointed Interim Manager in February 2022.
Dorflinger is a life-long resident of Ouachita County and has been employed by the cooperative since November 1994. He is a journeyman lineman and a certified line design and staking engineer. He is also a graduate of National Rural Electric Cooperative Association's (NRECA) Management Internship Program and Supervisory Training Program.
Dorflinger has volunteered his skills and experience in several mission trips to villages in Guatemala. He traveled with several Arkansas lineman with the Operation Razorback mission program.
"Shawn is aware of what the members and the cooperative model needs to be able to move forward. He has established a great partnership with other managers statewide and continues to stay informed of current issues," Board President Jim Garner said.
Reflecting on the death of former General Manager Robby Stinnett, Dorflinger said, "After the loss of a good friend and co-worker of 28 years, I was asked to step in and follow in the footsteps of the previous leaders. I'm honored to be among those that came before me. I look forward to serving the membership of Ouachita Electric."
As we look to the future of Ouachita Electric, we are no longer just an electric cooperative. We have morphed into a service cooperative. With technology changing constantly, we now can provide more services to our membership. We can make life better in rural south Arkansas by providing solar, fiber internet and energy-efficiency programs.
As always, our number one goal is to keep the power on, and employees of Ouachita Electric will be here to serve our membership.
---
To view PDF files on your computer, please click the link below to download Adobe Acrobat Reader.