Cooperative News
March 16, 2020
OECC TAKING PRECAUTIONS REGARDING COVID-19
Camden, AR March 16, 2020
Ouachita Electric Cooperative is taking preventative measures to limit COVID-19 cases in the area. "We want to assure our members that we are prepared to continue providing reliable electricity.", Mark Cayce, General Manager of OECC. The safety of our employees and members is our first priority. As such, we will be taking the following precautions:
Beginning March 17, 2020, OECC lobbies in Camden and Hampton will be closed to the public until further notice. In addition, home energy audits will be rescheduled for a later date. Employees who must enter homes and businesses will practice preventative measures, such as avoiding close contact and repeated hand washing and sanitizing.
Members may conduct business with OECC by phone (toll free 1-877-252-4538), our lobby kiosk (located in Camden & Hampton), drive-thru windows and night drop. Members can access their account online through the account portal or by downloading the OECC app from the Apple Store or Google Play. OECC will continue to be available 24/7 to serve our members.
We encourage everyone to help prevent the spread of the Coronavirus by following the CDC's recommendations:
Wash your hands often with soap and water for at least 20 seconds.
Avoid touching your eyes, nose or mouth with unwashed hands.
Cover your mouth and nose with a tissue when you cough or sneeze, then dispose of it.
Stay home if you are sick and limit contact with others.
Clean and disinfect frequently touched surfaces, such as doorknobs and phones.
Ouachita Electric Cooperative serves almost 9, 500 active meters across 5 counties. The Cooperative headquarter is located in Camden, AR, with a district office in Hampton, AR. For more information, visit www.oecc.com or call 877-252-4538.
February 4, 2020
You could win a trip to your nation's capital!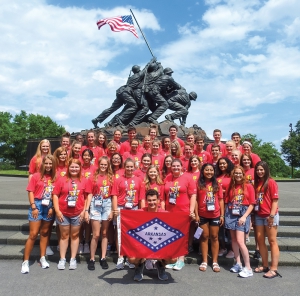 WIN A TRIP TO WASHINGTON D.C.!
Youth Tour gives a few lucky students the chance to spend a week in and around our nation's capital visiting historic sites such Gettysburg, touring some of our most moving memorials such as Lincoln's, and browsing the campus of our nation's capital at such places as the Smithsonian museums.
Visit historic monuments and museums!
Mingle with students from across the country!
Meet U.S. Representatives and Senators!
Youth Tour 2020
June 19-25, 2020
Washington, D.C.
For more information contact:
Angie McLendon, Youth Tour Coordinator
amclendon@oecc.com
870-837-3615

Download the 2020 Application
Learn more about Youth Tour
January 7, 2020
2020 Board Meeting Dates
Board meeting dates:
When: 6:00 p.m.
Where: Camden Office Board Room

Dates:
February 6, 2020
February 18, 2020
March 26, 2020
April 23, 2020
May 28, 2020
June 25, 2020
July 23, 2020
August 27, 2020
September 24, 2020
October 22, 2020
November TBD
December TBD
October 30, 2019
Ouachita Electric Coopeartive to Lower Member Rates 4.5%
The Ouachita Electric Cooperative Board has approved filing with the Arkansas Public Service Commission a request to lower member rates by 4.5%. The Average residential bill will decrease by 4.25% Over the past several years the cooperative has worked to lower peak demand expenses. These efforts have included adding solar to the large industrial, commercial, and residential consumers. Wholesale power expense is the single largest expense paid by the cooperative. Lowering this expense benefits every member of the coop.
Working together everybody wins.
7 Cooperative Principles
View 7 Cooperative Principles in full window
Notice
Notice is hereby given that the Board of Directors of Ouachita Electric Cooperative Corporation has approved changes in the following rate schedules of this Cooperative as set forth below.
Proposed Rates will become effective for all bills issued on or after February 5, 2020, unless, on or before such effective date, petitions from ten percent (10%) of the member-consumers have been received by the Arkansas Public Service Commission, 100 Center Street, Little Rock, Arkansas 72201, the mailing address of which is: P.O. Box 400, Little Rock, Arkansas 72203-0400.
Rate Schedule
Present Rate
Proposed Rate
Residential

Service Availability Charge, per month@
$20.00

$23.00

All kWH, per kWh@

$0.098459

$0.103096

Minimum Bill, per month @

$27.50

$30.50

Which Includes Service Availability Charge and kWh of

76 kWh

73 kWh

Commercial and Industrial Lighting and Power

Service Availability Charge, per month@
$36.00

$39.00

All kWh, per kWh @

$0.098459

$0.103096

Large Power
Customer Charge, per month
Customers 250 kW or Less @
$65.00
$70.00
Customers Over 250 kW @
$195.00
$210.00
Demand Charge, per kW @
$4.66
$5.36
First 150 kWh/kW, per kWh @
$0.075803
$0.082044
Next 150 kWh/kW, per kWh @
$0.063443
$0.072044
Over 300 kWh/kW, per kWh @
$0.057503
$0.62044
Security Lighting

175 Watt MV, per lamp @

$8.68
$10.07

175 Watt MV Shielded, per lamp @

$9.26
$10.74

250 Watt MV, per lamp @

$11.60
$11.68

400 Watt MV, per lamp @

$16.34
$16.69

1000 Watt MV, per Lamp @

$39.29
$39.95

100 Watt HPS, per lamp @

$7.99
$8.18

100 Watt HPS Shielded, per lamp @

$8.58
$8.76

150 Watt HPS, per lamp @

$10.72
$10.78

250 Watt HPS, per lamp @

$15.00
$13.50

LED 100 Watt HPS Equivalent, per lamp @

$8.04
$6.98

LED 100 Watt HPS Equivalent Shielded, per lamp @

$8.63
$7.67

LED 400 Watt HPS Equivalent, per lamp @

$16.52
$11.84

175 Watt MV, metered, per lamp @ *

$4.63
$5.35

175 Watt MV Shielded, metered, per lamp @ *

$5.23
$6.04

250 Watt MV, metered, per lamp @ *

$5.48
$6.33

400 Watt MV, metered, per lamp @ *

$7.06
$8.15

1000 Watt MV, metered, per lamp @ *

$16.09
$18.58

100 Watt HPS metered, per lamp @ *

$5.25
$6.06

100 Watt HPS Shielded, metered, per lamp @ *

$5.85
$6.33

150 Watt HPS metered, per lamp @ *

$6.54
$7.55

250 Watt HPS metered, per lamp @ *

$8.09
$9.34

LED 100 Watt HPS metered Equivalent, per lamp @*

$5.25
$6.06

LED 100 Watt HPS metered Eq Shielded, per lamp @*

$5.80
$6.70

LED 400 Watt HPS metered Equivalent, per lamp @*

$7.06
$8.15
Municipal Street Lighting

100 Watt MV, per lamp @

$5.14
$5.76

175 Watt MV, per lamp @

$7.99
$8.88

175 Watt MV Shielded, per lamp @

$8.60
$9.62

250 Watt MV, per lamp @

$11.11
$12.31

400 Watt MV, per lamp @

$17.23
$19.06

1000 Watt MV, per lamp @

$38.26
$41.78

100 Watt HPS, per lamp @

$5.13
$5.76

100 Watt HPS Shielded, per lamp @

$5.73
$6.49

250 Watt HPS, per lamp @

$10.93
$12.10

400 Watt HPS, per lamp @

$16.97
$18.74

LED 100 Watt HPS Equivalent, per lamp @

$3.79
$4.39

LED 100 Watt HPS Eq Shielded, per lamp @

$4.39
$4.86
LED 400 Watt HPS Equivalent, per lamp @
$11.59
$13.25
Optional Large Power Over 250 kW Time-of-Use

Customer Charge, per Month

$630.00
$630.00

NCP Demand Charge, per Billing NCP kW @

$6.90
$5.36

CP Demand Charge, per Billing CP kW @

$10.51
$10.86
Energy Charge, per kWh @
$0.049128
$0.062044

Purchased Power Transmission Demand and RTO Energy Rider Cost Adjustment
Base Cost Per kWh Purchased

$0.002093
$0.003663

Energy Cost Adjustment
Base Cost per kWh Purchased

$0.034564
$0.032244

Debt Cost Adjustment
Annual Cost of Debt in Base Rates

$1,070,935
$2,646,325
* Customer Services & Distribution components of rate
Summary of Proposed Changes to Revenue
Average
Consumers
kWh Sold
Adjusted
Test Year
Revenue
Proposed
Revenue
Change
%Change
Residential
8,525
99,495,956
$13,217,971
$12,655,770
$ (562,201)
-4.25%
Commercial < 50 kW
817
16,665,556
2,216,138
2,097,491
(118,647)
-5.35%
Large Power
69
97,942,070
9,457,601
9,005,939
(451,662)
-4.78%

Large Power > 250 kW TOU

0
0
0
0
Security Lighting
6,357
4,743,778
750,621
712,968
(37,653)
-5.02%
Municipal Street Lighting
488
311,418
39,242
39,294
52
0.13%
Total Energy Sales
9,411
219,158,778
25,681,573
24,511,462
(1,170,111)
-4.56%
Sales for Resale-Solar
1,553,763
153,894
153,894
0
0.00%
Other Revenue
173,698
173,698
0
0.00%
Total Energy Sales
26,009,165
24,839,054
(1,170,111)
-4.50%
Note: Total consumers excludes lighting
May 21, 2018
Safety above all else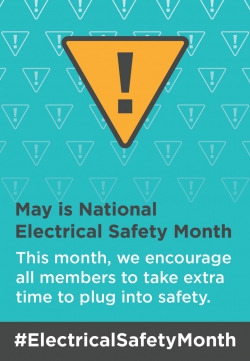 For Ouachita Electric Cooperative, safety is our No. 1 priority. Over time, we have created a culture of safety by putting our employees' safety and that of the community above all else. At its essence, our mission is to provide safe, affordable and reliable electricity to our members. At the end of the day, we strive to deliver affordable and reliable electricity to our members, but equally important, we want to return our workers home safely to their loved ones. To do this requires ongoing focus, dedication and vigilance.
Following leading national safety standards
Working with electricity is an inherently dangerous job, especially for lineworkers. We have established and follow safety protocols based on leading national safety
practices for the utility industry. We require our lineworkers to wear specialized equipment when working next to or with power lines. There are specific protocols that our lineworkers follow when dealing with electricity. Our safety team has regular meetings where they discuss upcoming projects from a safety perspective. They monitor and track nearm isses of accidents in order to understand them, share "lessons
learned" and improve in the future.
Equally important, we encourage all of our crews to speak up and hold each other accountable for safety. By cultivating a culture of openness and transparency, we promote problem-solving with regard to safety, rather than defaulting to a blame game.
We examine the information and data gleaned from nearmisses and accident reports to discern patterns and use safety metrics to improve in those areas where we have fallen short. As appropriate, we brief contractors on our safety protocols and set expectations for their engagement.
Keeping the community safe
Because we live and work in the community we serve, we care about our neighbors. We conduct electrical safety demonstrations in schools and for community events. We also sponsor the program, "Making Accidents Disappear," an education electric safety "magic" show for elementary students.
May is National Electrical Safety Month. According to the Electrical Safety Foundation, each year thousands of people in the United States are critically injured and electrocuted as a result of electrical fires, accidents and electrocution in their own homes. Many of these accidents are preventable. There is much you can do to keep yourself and your community safe around electricity.
Don't attempt electrical do-it-yourself projects or overload your outlets. Report downed power lines, unlocked substations or transformers that look amiss. Be mindful when it comes to electrical safety. Pause and take the extra time to plug into safety.
February 22, 2018
December 29, 2017
Customer Service Portal, Smart App and Kiosk down for maintenance
Attention OECC members: Our billing system year end maintenance will be performed from Friday, December 29, 2017 at 1:00 PM until Tuesday, January 2, 2018 at 8:00AM. This will prevent billing inquiries or payments via phone, web, kiosk or app during this time. Remember our night deposit at either location is always available. For power outages or emergencies, please call toll free 877-252-4538. Have a very Happy New Year!
July 31, 2017
June 28, 2017
Ouachita Electric Cooperative named SEPA Electric Cooperative Utility of the Year
Camden, Ark. — June 28, 2017 — Ouachita Electric Cooperative (OECC) was recently named as the Smart Electric Power Alliance (SEPA) Electric Cooperative Utility of the Year by SEPA for the cooperative's work to construct a 12-megawatt solar array in East Camden.
OECC worked with its largest industrial member, defense contractor Aerojet Rocketdyne, project developer Silicon Ranch and Arkansas Electric Cooperatives Corporation (AECC), to construct the 12-megawatt solar array. The unique part of this collaboration was the power purchase agreement (PPA) that placed the array behind Aerojet Rocketdyne's meter, giving the company a fixed, low-cost power supply. The project was the first utility-scale solar array built in Arkansas. It also provided approximately 6-megawatts of peak capacity and energy to AECC while simultaneously reducing the peak demand for OECC. This reduction in peak demand cost has lowered the cost of power for OECC's more than 7,000 members.
"We are overwhelmed to be honored with this award," said Mark Cayce, general Manager of OECC. "This project has clearly demonstrated by working together as a unified team everybody wins. New technology has started to take root here. Our goal has been to refocus attention on south Arkansas as a leader in innovative energy efficiency programs, clean energy and high-speed fiber internet service in the rural area we serve."
Now in its ninth year, the SEPA Power Players Awards recognize utilities, their industry partners, individuals and other stakeholders on the front lines of energy transformation in the United States that are significantly advancing knowledge of or access to distributed energy resources that benefit electricity consumers and the grid. The award winners are chosen by an independent panel of seven judges with diverse experience in the electric power industry.
"Partnering with a major industrial member to build behind-the-meter, utility-scale solar that lowers peak demand costs is smart itself, but for it to be the first utility-scale solar in Arkansas period, demonstrates just how far the industry has come," said Don Harrod, village administrator of Minster, Ohio, SEPA's 2016 Public Power Utility of the Year. "Ouachita Electric Cooperative Corporation is making major moves, I look forward to seeing what their clean energy future can teach others."
According to SEPA President and CEO Julia Hamm, building large-scale solar in a part of the country where it hasn't been done before is difficult.
"What we see from Ouachita, and many others, is that it isn't too big of a hurdle to circumvent," Hamm said. "Creative PPAs and unique program designs such as Ouachita's that benefit both the member and the grid is another example of work being done to move the United States toward a clean energy future."
About SEPA
The Smart Electric Power Alliance is an educational nonprofit working to facilitate the utility industry's transition to a clean energy future through education, research, standards and collaboration. SEPA offers a range of research initiatives and resources, as well as conferences, educational events and professional networking opportunities. SEPA is founder and co-sponsor of Solar Power International and winner of the Keystone Policy Center's 2016 Leadership in Energy Award. For more information, visit www.sepapower.org.
About OECC
Ouachita Electric Cooperative serves approximately 7,000 members in Bradley, Calhoun, Dallas, Nevada and Ouachita counties. Incorporated in 1939, the cooperative is based in Camden with a district office in Hampton. The locally owned and managed organization has 37 employees.
For more information, please contact Angie McLendon with Ouachita Electric Cooperative, at 870.836.3615 or amclendon@oecc.com.
March 7, 2017
HELP PAYS® results are in
Release of Investment Activity for the HELP PAYS® program
In February, 2016, the Arkansas Public Service Commission voted unanimously to approve Ouachita Electric's filing of an opt-in tariff for cost effective energy efficiency investments.
Once approved, Ouachita Electric Cooperative replaced its existing on-bill loan program, called HELP, which had been recognized as a best practice model at the U.S. Department of Energy's Better Buildings Summit. Ouachita implemented its program using the Pay As You Save® (PAYS®) system, and named the program HELP PAYS®.
All of the program performance figures for initial investment activity substantially exceeded similar metrics for the HELP loan program during the same period for the prior year.
Using smart meter data, monthly performance will be monitored to provide feedback for continuous improvement in systems and processes for implementation of the program. Ouachita Electric has undertaken a retrospective evaluation after one year of data has been collected.

To view PDFs, please download Adobe Reader.
Download PDFs below
March 2, 2017
Ouachita Electric Cooperative to build second solar array with Today's Power, Inc.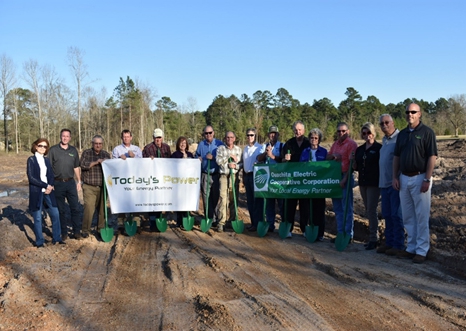 OECC builds 1 MW solar system in Holly Springs, AR
Ouachita Electric Cooperative based in Camden Arkansas recently reached an agreement with Today's Power Inc. to provide a one-megawatt solar array for the cooperative. OECC provides electric service to approximately 9,400 meters across Ouachita, Calhoun, Dallas, Bradley, and Nevada counties in South Arkansas
The Holly Springs-based facility, which is scheduled to be completed in the second quarter of 2017, will involve an array of about 4,080 panels on a 10-acre site near Holly Springs, Arkansas. The output of the energy produced by the array could provide for the power needs of up to 250 homes for the next 25 years.
This project will be built as a community solar facility that will give members of the cooperative the opportunity to purchase solar power generated from the site near Holly Springs and receive a credit on their individual electric bills without having to install panels on their own homes.
"We are proud to be a part of OECC's commitment to be the leader in offering low cost, safe and responsible energy to its members in south Arkansas. Among the many benefits, adding this solar array as another energy resource will help keep Ouachita Electric Cooperative member's energy consumption costs at an affordable rate for many years to come," said Chris Burnley, Director of Business Development for Todays Power, Inc.
This is the second project that OECC and TPI have completed as a result of their partnership. A 93 KW solar array was designed and built in 2016 to power the cooperative's headquarters, operations center, and campus. Since going online in February of 2016, 95% of the electric power needed for the site in Camden has been provided by the solar array.
"All of our solar systems are customized around a cooperative's wholesale billing drivers and load characteristics specifically to produce maximum value for the cooperative," said Michael Henderson, President of Today's Power, Inc.
According to Ouachita Electric Cooperative CEO, Mark Cayce, "the cooperative chose the TPI product because of its safety attributes, the unique architecture of the solar panels, and the reliability that has been demonstrated over the last year to meet our energy needs. Partnering with local industries to bring the first utility scale solar to Arkansas, demonstrating on our own office the feasibility and affordability of using solar power in South Arkansas, and making community solar available to our members is just part of providing more value to being a cooperative member".
Today's Power, Inc. is a wholly owned subsidiary of Arkansas Electric Cooperatives, Inc. (AECI), a Little Rock-based utility service cooperative owned by 17 Arkansas electric distribution cooperatives. Today's Power, Inc. is an authorized distributor and installer for TKS photovoltaic systems.
February 15, 2017
January 11, 2017
December 30, 2016
Customer Service Portal and SmartAPP
Ouachita Electric's Customer Service Portal and SmartAPP will be down for year end maintenance until January 2, 2017. We appreciate your patience, and wish you a very bright and prosperous New Year.
October 27, 2016
CEO Mark Cayce presents update on HELP PAYS at SEEA's Momentum conference
The Southeast Energy Efficiency Alliance and the Association of Energy Service Professionals invited CEO Mark Cayce to address their Momentum conference, an annual summit for energy efficiency experts and stakeholders across the Southeast.
To view pdfs, download Adobe Reader.
Download PDFs below
Following Ouachita Electric's release of a report on the market response to the HELP PAYS program in its first 4 months, CEO Cayce presented to conference participants the key findings from that report. Presentation slides can be downloaded here.

Mark Cayce said, "SEEA hosted an excellent conference that drew top-flight utility managers, policy makers, public interest advocates, and practitioners in the field of energy efficiency. I've returned home with requests for information from people in multiple states, and I'm proud of our team at Ouachita Electric and our partners for generating such interest with the HELP PAYS program."
June 14, 2016
Gigabit Internet Access Coming to South Arkansas
Gigabit Internet Access Coming to South Arkansas
Ouachita Electric Cooperative and South Arkansas Telephone form ARIS to bring Gigabit Internet Speeds to Southern Arkansas Communities
CAMDEN, AR. – June 16, 2016 – Ouachita Electric Cooperative (OECC) and South Arkansas Telephone (SATCO) have formed a new company called ARIS to bring gigabit internet service to over thousands of homes and businesses in south Arkansas.
ARIS plans to start delivering services to customers in September 2016, with the goal of reaching all of 9500 homes and businesses of the OECC membership with fiber optic network services over the next several years. The initial packages will include options for: Gigabit Internet services, video services with options for up to 70 channels, and digital voice with unlimited local and long distance.
"In the 1930's and 1940's it was the electric cooperatives that brought electricity to rural America, today we're working to bring better access to the internet. This partnership leverages the strengths of both companies. By working together we can better serve our customers as well as our communities and the region. Companies looking to move to South Arkansas can know that they can get the same or higher level of connectivity services they get in large metropolitan areas" states Mark Cayce, General Manager of OECC.
"We're adding Camden and Hampton, Arkansas to the list of gigabit cities that includes Austin, Dallas, Chattanooga, Chicago, Kansas City and Nashville. These services will be transformative for not only our customers but for our region as well. SATCO believes in partnerships with other entities to help drive economic development for southern Arkansas." said Mark Lundy Director of SATCO.
"In 2010 SATCO engaged in a public-private partnership with the Arkansas Research and Education Optical Network (ARE-ON) to maximize a federal Broadband Technology Opportunities Program (BTOP) grant and installed a new 300-mile fiber optic artery across southern Arkansas. The partnership with ARE-ON enabled SATCO to expand and connect with OECC to provide gigabit internet service to some of the most rural areas of the region." states Mr. Lundy.
OECC members looking to sign up or get more information about the services and packages should go to www.arisark.us or call 877-252-4538.
About OECC:
Ouachita Electric Cooperative serves approximately 9,500 members in Bradley, Calhoun, Dallas, Nevada and Ouachita counties. Incorporated in 1939, the cooperative is based in Camden with a district office in Hampton. The locally owned and managed organization has 39 employees.
For more information contact visit www.oecc.com or call 877-252-4538.
About SATCO:
SATCO is a family owned and operated communication provider that has been serving customers since 1916. Starting as a local telephone provider for this area, SATCO has increased its services over the years to give South Arkansas the state of the art digital communication solutions it needs today. SATCO's voice, video and broadband internet access services keep South Arkansans informed, entertained and connected. And it's all with provided with the hometown pride and friendly service you'd expect from people who are your neighbors.
For more information please visit www.sat-co.net or call 866-798-2201
April 5, 2016
February 14, 2016
On-Bill Approach for Energy Efficiency Upgrades Spreads Among Rural Electric Co-ops
Ouachita Electric brings no-debt tariff program to Arkansas with unanimous commission approval
[Camden, AR] – Utility regulators in Arkansas have approved a new financing tool for Ouachita Electric Cooperative that will become big news for its members, and the unanimous decision clears the way to expanding investment in energy efficiency by harnessing a proven utility business model.
On February 8, 2016, the Arkansas Public Service Commission approved an optional tariff for Ouachita members that allows the utility to invest in energy upgrades like better insulation and heat pumps, recovering its costs on the bill with a charge that is less than the estimated savings.
With this approach, co-op members receive upgrades that provide lower bills and better comfort with no up-front costs and no personal debt. Renters qualify too because cost recovery is associated with the utility's meter at the property, rather than with an individual. Ouachita Electric had offered its members loans for energy efficiency upgrades, and it found that renters and families with limited capacity to take on debt were not benefiting.
"As a member cooperative, we want to make sure opportunities for energy savings are open to all our members," said Mark Cayce, General Manager of Ouachita Electric. "Now we will be able to reach even more of our members with investments that are also strengthening our financial position. I think we're going to see this take off around the state and look back on this as a watershed moment."
The tariff approved for Ouachita Electric is called Pay As You Save® (PAYS®), which is also the name of the system upon which it is based, as licensed from Energy Efficiency Institute, Inc. Leading cooperatives in Kansas, Kentucky, and North Carolina also offer programs based on the Pay As You Save system, and they have reported achieving average energy savings of 25% for participants.
With its unanimous approval, the Arkansas commission cleared the way for other co-ops in the state to follow suit with filings similar to Ouachita Electric. Collectively, seventeen Arkansas co-ops distribute energy to approximately 500,000 members, making Arkansas Electric Cooperative Corporation (AECC) the largest provider in the state.
This decision by the Arkansas commission comes as two important national energy leadership associations are convening February 14-17: the winter meeting of the National Association of Regulatory Utility Commissioners (NARUC) in Washington, DC, and the annual meeting of the National Rural Electric Cooperative Association (NRECA) in New Orleans.
"The PAYS tariff is a breakthrough on multiple fronts as utility executives and regulators alike have been searching for business models that are compatible with open competition for cost effective solutions on the customer's side of the meter," said Holmes Hummel, founder of Clean Energy Works, which won a Fire Award for PAYS® as a "high impact innovation in energy finance" at the Bloomberg New Energy Finance annual summit. "While participation in the clean energy economy is often restricted by access to financing, the PAYS tariff is opening the doors of opportunity for all."
More than 90% of the country's persistent poverty counties are served by electric cooperatives, and Ouachita Electric is among them. It serves Calhoun County, which is among the 252 counties that make up the most distressed area of the country, the Mississippi River delta region. Calhoun County is currently a semifinalist for the $5 million Georgetown University Energy Prize for communities leading the way on energy efficiency.
"Cutting wasted energy leaves money in the pockets of co-op members, particularly for families that need it most," says Tammy Agard, President of EEtility, Ouachita Electric's energy efficiency program operator. "The PAYS Tariff makes good business sense for all involved, and we look forward to creating more jobs for contractors as Ouachita scales up investment in the local economy."
November 18, 2015
Georgetown University Energy Prize - News Release

Calhoun County semi-finalist for Georgetown University Energy Prize Contest
Effort aided by programs implemented by Ouachita Electric Cooperative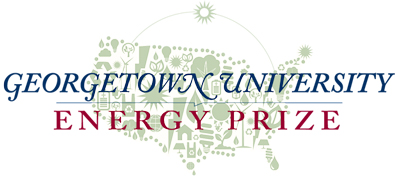 Camden, Ark. — Nov. 17, 2015 — Calhoun County is currently leading the Georgetown University Energy Prize contest thanks to the energy efficiency applications being implemented by Ouachita Electric Cooperative of Camden. The cooperative serves members in Calhoun County.
The Georgetown University Energy Prize contest involves periodic evaluation of energy consumption data from the more than 60 city and county contest applicants across the United States. The contest involves four stages with the final winner to be named by June 2017.
According to Mark Cayce, general manager of Ouachita Electric Cooperative, Calhoun County is in the semifinalist stage, or stage three, and will compete for the next two years to reduce their utility-supplied energy consumption to yield continuing improvements within the county and provide a model for other communities to replicate.
Cayce said the cooperative has worked with municipal and county officials to address energy efficiency practices in government facilities, and it has also implemented an innovative program to assist cooperative members with an easy repayment method for the addition of energy efficiency measures in their homes.
"We are offering the Home Energy Lending Program (HELP) for our members," Cayce said. "HELP is an on-bill financing program that provides members with an easy payment method for proven cost-effective energy efficiency enhancements. The member avoids having to provide up-front cash for these improvements that result in lower energy bills as well as increased comfort. The energy savings actually offset the financing payment on the bill, resulting in both lower usage and lower bills."
Cayce said the HELP program works in a four-step process. First, a free home energy assessment/report is provided to the cooperative member. The report identifies the recommended improvements and analyzes the annual energy cost savings associated with each one. Next, the homeowner decides which improvements are desired. These often include adding insulation, reducing air leakage, sealing ductwork and upgrading lighting. Once the improvements are made HELP team members inspect the work and the cooperative writes a check for the cost. The member then pays for the improvements on their monthly bill with the energy costs they save.
The cooperative has also conducted energy audits for municipal, county and school buildings and assisted in the deployment of high efficiency lighting that has resulted in lower energy usage at the facilities.
"We have had great success with the program so far and are excited to be able to help our members and position Calhoun County to win the Georgetown Energy Prize," Cayce said. "Our goal is, and will always be, to improve the quality of life for our members and this contest is a great avenue to do so."
Ouachita Electric Cooperative serves approximately 9,419 members in Bradley, Calhoun, Dallas, Nevada and Ouachita counties. Incorporated in 1939, the cooperative is based in Camden with a district office in Hampton. The locally owned and managed organization has 38 employees.
For additional information, contact:
Norma Beaver, Ouachita Electric Cooperative, 877-252-4538 or nbeaver@oecc.com
September 30, 2015
Ouachita Electric Cooperative of Camden to add Today's Power, Inc. solar array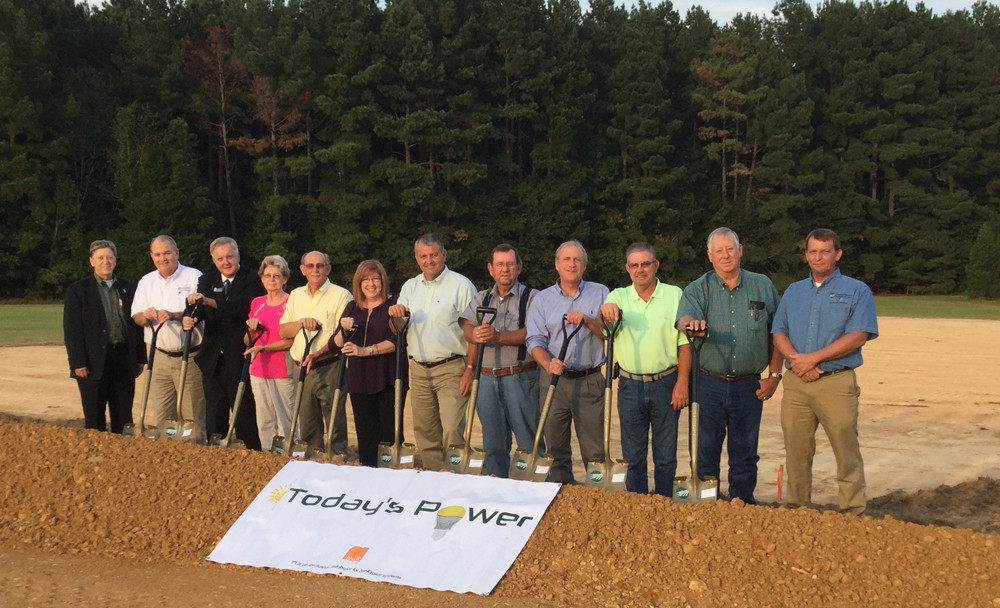 Photo from left Michael Henderson, Mark Cayce, Corbit Lamkin, Wanda Taylor, Danny Adams, Lisa Hendrix, Walt Pigott,
Greg Goss, David Mcleane, Mike Hutchinson, Jim Garner, Robby Stinnett
Ouachita Electric Cooperative of Camden, Arkansas broke ground on a new 100-kilowatt AC solar array to be installed from Today's Power Inc. (TPI), a wholly owned subsidiary of Arkansas Electric Cooperatives, Inc. (AECI).
"As a member-owned electric cooperative we strive to respond to the desires of our members when it is economically feasible and cost-effective for the membership as a whole," said Mark Cayce, general manager of Ouachita Electric Cooperative, which has more than 7,040 members and 9,419 meters. "TPI presented our team with a very efficient solar energy package that met our needs. We are excited to continue to explore the possibilities of methods to ultimately keep the rates for our members as reasonable as possible."
Cayce said, "The low after-tax installed cost of the system combined with the safety of the low-voltage design sold us on the product. We also take confidence in the fact that TPI's use of proven, experienced utility construction crews to install their system ensures quality installation."
According to Michael Henderson, president of TPI, Ouachita Electric is one of many electric cooperatives launching TPI-based solar programs across the country. He said TPI offers electric cooperatives opportunities to realize savings that previously was available only to taxable companies.
The Ouachita Electric solar project is a tenKsolar (TKS) Solar REFLECT XT-26 photovoltaic system that will involve approximately 312 solar panels at 410 watts each will be installed on the cooperative's campus. The installation will produce enough energy to support the requirements of Ouachita's headquarters.
June 9, 2015
New Payment Kiosk Available
Ouachita Electric has installed a new payment kiosk which is now located in the foyer of our main office at 700 Bradley Ferry Rd. It is open 24x7, 7 days a week.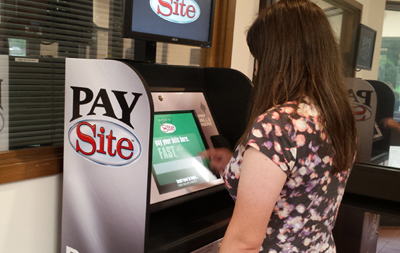 February 4, 2015
Calhoun County Advances in $5 million Georgetown University Energy Prize
Calhoun County among elite communities across the nation leading the way on energy efficiency
Hampton Arkansas– January 14, 2015] – Today, Calhoun county officially advances to the Semifinal round of the Georgetown University Energy Prize, a national competition that is challenging communities across the U.S. to rethink their energy use. At a press event in Washington, D.C. today, Calhoun County announced as one of the [TBD] communities who are leading the way on energy efficiency.
"Calhoun County, as well as mayors and executives across the county, have told us that this Prize gives them the momentum to accelerate their energy efficiency efforts," said Dr. Francis Slakey, Founder and Executive Director of the Georgetown University Energy Prize. Slakey continued, "these Semifinalist communities are leading the way for other small- and medium-size cities and counties to secure their energy efficient future."
"Everyone individual in this community will gain from this competition. We can all lower our total energy cost, improve our environment, and make this a better place for us all to live and work." Said Mark Cayce the General Manager for Ouachita Electric Cooperative.
Calhoun County joins 50 communities from around the country in this friendly competition to improve energy efficiency for all. "The competition looks truly like America," said Dr. Slakey. "Not only do these communities come from across the map, they represent the nation's full political, social and economic diversity. Some are paying the highest prices for energy, some have the ambition to be carbon net-zero, but all communities share the goal of transforming America's energy future."
To learn more about the Georgetown University Energy Prize and to track the competition's progress, visit www.guep.org, or follow the Prize on Twitter (@GUEnergyPrize) or Facebook (www.facebook.com/guenergyprize).
For more information about Calhoun County's efforts and ways you can get involved, please contact the Ouachita Electric Cooperative office at 877-252-4538.
About Calhoun County
Calhoun County was formed on December 6, 1850, from parts of Dallas, Ouachita and Bradley counties. It is named for John C. Calhoun, an American statesman and political philosopher and Vice President of the United States. Hampton is the county seat. Calhoun County is Arkansas' 55th county. The county is small, averaging less than 10 people per square mile. The economic base is timber, sand, and gravel. The landscape of the county is made up of rolling hills and is largely forested. Calhoun County shares with Cleveland County the Moro Creek Bottoms Natural Area, one of the few almost completely intact tracts of virgin hardwoods still existing in Arkansas. Calhoun County has the feeling of togetherness with the many ball fields and playgrounds. Most of the citizens take time for ball tournaments held at the Calhoun County Park or Hampton Recreation Fields. Varied water recreation is available within easy reach of anywhere in the county, and hunting is also a popular sport.
About Georgetown University Energy Prize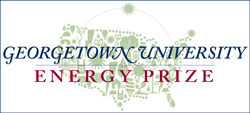 The $5 million Georgetown University Energy Prize challenges small- to medium-size towns, cities, and counties to rethink their energy use, and implement creative strategies to increase efficiency. To compete for the Prize, local governments, residents, utilities, and others will need to work together to demonstrate success in sustainably reducing energy consumption over a two-year period. For more information, visit www.guep.org.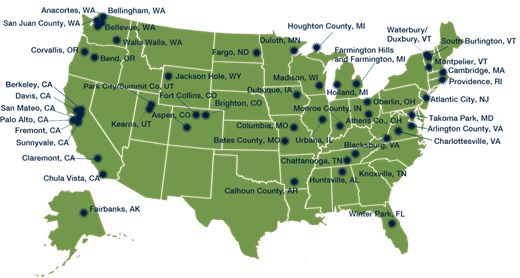 SEMIFINALIST LIST AND MAP
The following 50 communities have been selected to advance to the Quarterfinalist phase of the Georgetown University Energy Prize:
Fairbanks, AK
Huntsville, AL
Calhoun County, AR
Berkeley, CA
Chula Vista, CA
Claremont, CA
Davis, CA
Fremont, CA
Palo Alto, CA
San Mateo, CA
Sunnyvale, CA
Aspen, CO
Brighton, CO
Fort Collins, CO
Winter Park, FL
Dubuque, IA
Urbana, IL
Monroe County, IN
Cambridge, MA
Takoma Park, MD
Farmington Hills and Farmington, MI
Holland, MI
Houghton County, MI
Duluth, MN
Bates County, MO

Columbia, MO
Fargo, ND
Atlantic City, NJ
Athens County, OH
Oberlin, OH
Bend, OR
Corvallis, OR
Providence, RI
Chattanooga, TN
Knoxville, TN
Kearns Township, UT
Park City/Summit County, UT
Arlington County, VA
Blacksburg, VA
Charlottesville, VA
Montpelier, VT
South Burlington, VT
Waterbury/Duxbury, VT
Anacortes, WA
Bellevue, WA
Bellingham, WA
San Juan County, WA
Walla Walla, WA
Madison, WI
Jackson Hole, WY
This group of 50 select cities and counties who will be competing through 2016 to reduce their energy consumption and are vying to make it into the Finalist round in 2017. A full-page version of the competitors map may be downloaded at: http://www.guep.org/docs/Semifinalist_Map_v8_FINAL_page.pdf A web-friendly version can be downloaded at: http://www.guep.org/docs/Semifinalist_Map_v8_web.png
January 25, 2015
November 3, 2014
Having issues with our customer service portal?
If you have any problems logging into our Customer Service Portal, please contact us by email or phone at 870-836-5791. The browser versions supported by this site are listed below: Internet Explorer (IE) 8 & 9, Firefox 7, Chrome 14, Safari 5. Have a smart phone or other smart device? Download now!
August 7, 2014
Report power outages faster through the convenience of text messaging from your text-enabled cell phone or mobile device.

August 6, 2014
August 5, 2014
August 3, 2014
Talk to the Manager
Questions about Ouachita Electric practices or policies? Email our General Manager Mark Cayce.