Meet Your New General Manager - Robby Stinnett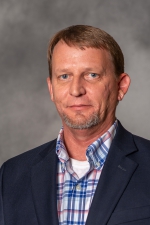 Ouachita Electric Cooperative and the Board of Directors are pleased to announce Robby Stinnett as the new General Manager. Stinnett will assume the role of General Manger on August 30, 2021.
Stinnett is a lifelong resident of Ouachita County, raised in the Elliott Community with family origins in the Chidester area. Stinnett is presently employed as System Planning Manager and has been a Cooperative employee since 1993.
"I am flattered to have been chosen by your board of directors to be the next general manager of Ouachita Electric Cooperative. As only the fifth general manager to serve the members of OECC in the 80 plus years of incorporation I am pleased to join a small group of dedicated individuals sacrificing their time and efforts to make OECC and south Arkansas a better place for everyone.". Stinnett commented.
Ouachita Electric Cooperative currently has 38 full-time employees with a combined 614 years of experience. OECC is a non-profit rural electric utility cooperative headquartered in Camden, Arkansas, with a district office in Hampton, Arkansas. The Cooperative was organized in 1938 and serves approximately 7,000 members in the counties of Ouachita, Dallas, Calhoun, Bradley and Nevada.